Total Eclipse at Kia Kima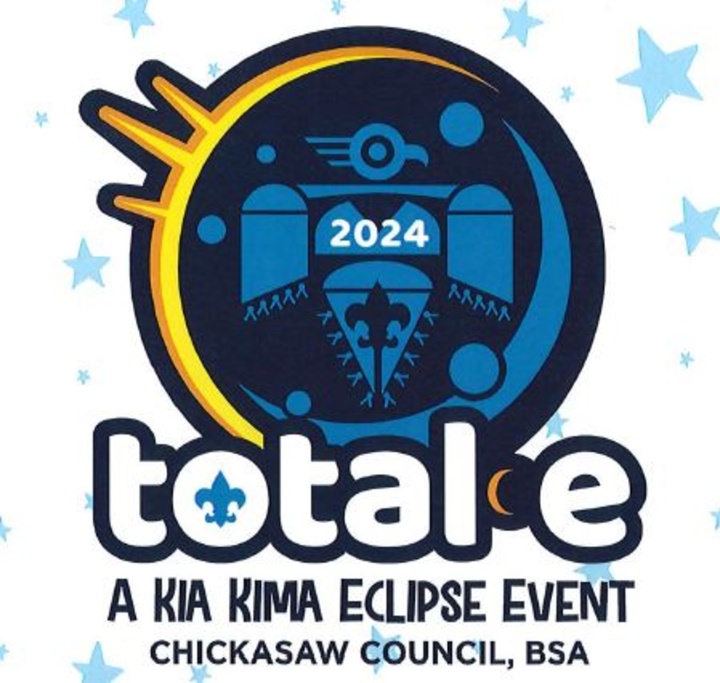 The 2024 Great American Eclipse will be passing right over our very own Kia Kima Scout Reservation - and the anticipation is HIGH! The duration of maximum totality will be 4 minutes and 28 seconds, nearly twice as long as the 2017 Eclipse!
This event will be open to all scouts in and out of the Chickasaw Council. We are fortunate to be one of the very few BSA camps to experience the total solar eclipse - an event that will not happen again until 2044!
Many eclipse and astronomy activities will fill Saturday night and all of Sunday leading up to the 2024 Great American Eclipse on Monday, April 8.
Leaders guide to come soon.
All participants will need to bring their own tents and if you have selected a "without food" option you will need to bring your own food and cooking gear.
Included for all participants will be a patch and special custom Total Eclipse glasses to wear during the Eclipse. Participants that have selected the "with food" option can expect a hardy cracker barrel on Saturday night, 3 meals on Sunday, and breakfast and lunch on Monday.
If you are a 1-Day Pass participant lunch will be provided for you, but it is only optional and not required that you eat lunch.
The tradining post will be open during the weekend with Kia Kima merch as well as special Eclipse shirts, hats and more.
Pricing: Late fee of a $10 increase starting March 23rd, 2024 for all participants including 1-Day Passes.
Scouts BSA, Venturing Scouts, Sea Scouts, Explorers

Youth with Food: $100
Youth without Food: $75
Campsite Only Scouts BSA: $40*
Adults with Food: $50
Adults without Food: $25
Campsite Only Adults: $40*
*Campsite Only for Scouts BSA and Adults is primitive camping for the weekend and it does not include food or program activities or adult trainings*
Cub Scouts

Youth (with Food only option): $75
Adults (with Food only option): $50

1-Day Passes