The Memphis Scout Shop
Gear up for adventure!
The Memphis Scout Shop has all the gear you need for your Scouting adventures! From uniform parts to backpacks to handbooks, we've got you covered!
Hours
Monday - Friday, 8:30 a.m. to 5:30 p.m.
Saturday, 10:00 a.m. to 2:00 p.m.
2019 BSA Giving Tree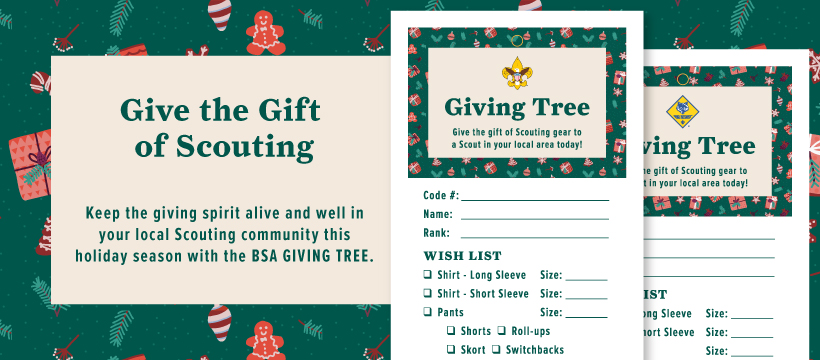 The Memphis Scout Shop is providing an opportunity for the Scouting community to help locals Scouts who may be in need of uniforms and uniform items through the Holiday Giving Tree! The program starts on November 16 and ends on December 16, 2019, and items can be purchased and left with the Memphis Scout Shop staff. If you know a Scout who could benefit from this program, please complete this form.
The Memphis Scout Shop has All Your Uniforming Needs
Cold weather is just around the corner! Remember to visit the Memphis Scout Shop for all your cold-weather Scouting and camping gear needs!
Sewing Services
The Memphis Scout Shop offers in-house sewing services! Patches are $3.00-5.00 each, depending on size, and hemming is $12.50 per item.